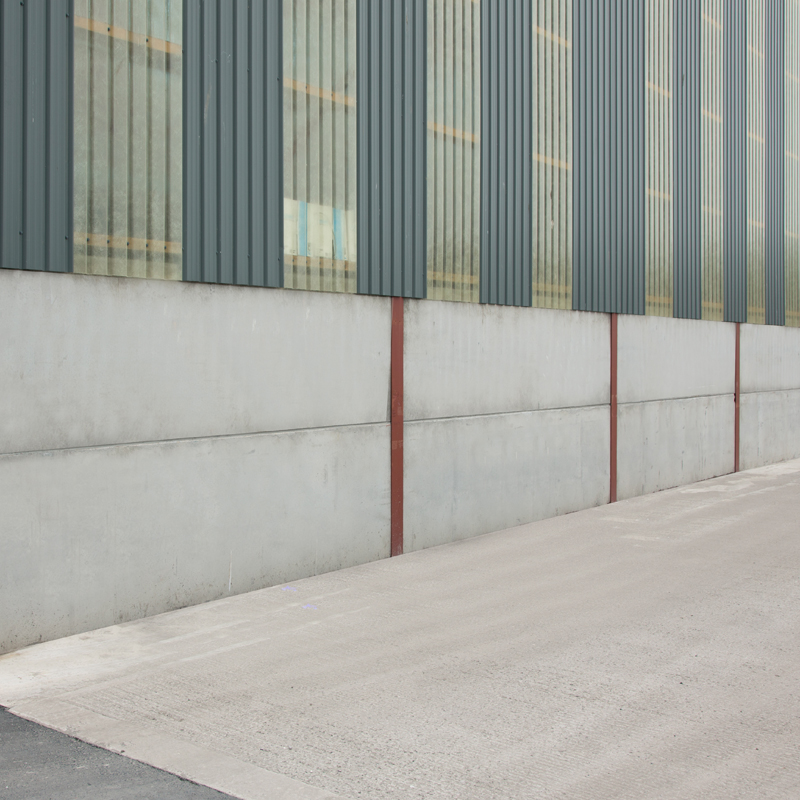 Pre-stressed Wall Panel Bed
MACFAB prestressed wall panel casting moulds produce elements for a wide variety of applications including:

Agricultural dividing walls for livestock,
External walls for commercial buildings,
Retaining and dividing walls for bulk materials in agricultural, industrial, recycling, quarry and construction sectors such as silage, cereal, or aggregate storage.
Security perimeter walls around compounds and yards
Some benefits of prestressed wall panels are:

Rapid all-weather erection reduces time on site. No need for formwork shuttering or pumping liquid concrete.
Production can be carried out within a controlled factory environment allowing better quality control and reduced risk over site conditions.
Prestressing of the reinforcing wires provides greater load-bearing capacity than comparable in-situ elements.
Macfab prestressed wall panel casting moulds operate a wet-cast principal which provides the following advantages over competing methods.

Lifting devices can be cast into the element connected to the reinforcing steel tendon.
A multitude of anchoring and lifting devices can be cast into the product.
Possible to apply various surface finishes to the element after pouring such as brushed, textured, polished etc.
A variety of admixtures can be used such as self-compacting and waterproofing.
Possible to have exposed reinforcing wire at end of panel for tying into foundation for vertical applications.
Video
Non-load bearing wall panel 1000mm x 90mm

Non-load bearing wall panel 1200mm x 90mm
Non-load bearing wall panel 1500mm x 250mm
Load bearing wall panel 1000mm x 140mm
Load bearing wall panel 1200mm x 140mm

Load bearing wall panel 1500mm x 140mm
Table for above load bearing wall panels
MAXIMUM WALL HEIGHT
Panel Thinkness
140mm
Span between
colums
Surcharged
grain
Level
grain
Sludges /
slurries
Surcharged
vegetables
Level soil/
fertiliser


4.50
4.25
6.00
2.10
4.00
4.25

6.00
2.50
4.00
1.20
2.25
2.45